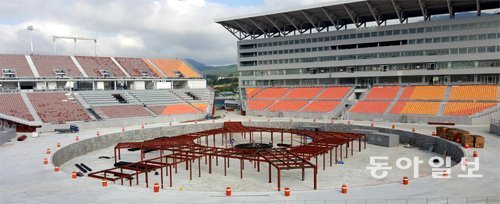 The Olympic Plaza, a pentagon shape stadium with sharp corners, appears in the background of mountainous Gangwon Province that resembles an ink wash painting. People all over the world will watch the opening and closing ceremony of the 2018 Pyeongchang Winter Olympics and Paralympics from Feb. 9 to Mar. 18, 2018 that will be held in this stadium. Workers were busy to build the Olympic cauldron in the stadium. Here, the torch will be lit and be brighten up Pyeongchang. 
All 35,000 seats of the stadium are installed already and the performance stage is still under construction. The construction of the stadium is completed by 95 percent. Waiting rooms, pavilions for sponsor companies, broadcasting sites, and other supporting facilities are built by 90 percent and their construction will be completed by the end of this year. It was certain that Gangwon Province started the countdown to host the Pyeongchang Olympics as the event will be held after five months. 
Gangwon Province is also busy to meet domestic and foreign visitors to achieve its goal to combine tourism with Olympic games. A double-track Wonju - Gangneung railway that will connect the distance between the Incheon International Airport and Gangneung within two hours will be open in December. The transportation infrastructure including shuttle bus that rotates stadiums and stations, and transfer parking lot is being built now. Nearby restaurants are preparing for English menus for foreign visitors. 
Gangneung Coffee Street in Anmok Beach, Woljeongsa Temple and other famous tourist destinations are scattered in Pyeongchang, Gangneung, Jeongseon, which lacks of transport infrastructure that connects to the Olympic facilities. "We will do our best to resolve all issues within remaining 140 days," said Song Hun-seok, media service chief at the Pyeongchang Organizing Committee.
gain@donga.com