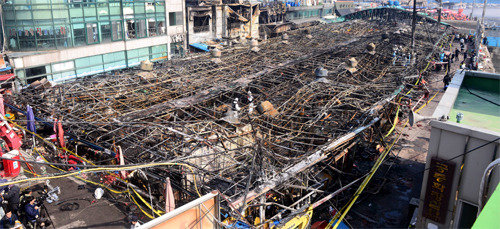 As if bombed by a missile, the fish market located at Sorae Port in southern Incheon was in a devastating state after the massive fire on Saturday. Since the initial incineration at 1:36 a.m., the fire which lasted for around 150 minutes burnt down around 220 street stalls built as makeshifts in vinyl tent and approximately 20 sushi restaurants.
The fire left the scene with only steel pipes and iron bars, which used to serve as buttresses. Water tanks scattered here and there were filled with dead marine products, and the floor was in chaos with half-burnt stalls mixed with ashes. Among the four zones (A to D) in the fish market, zones A and B were hit the hardest, as around two-thirds of the total 332 stalls were mostly located in these zones.
Merchants were devastated as they saw their shops burnt down to heaps of ashes. Those who aimed for the rush period as the blue crabs were in season starting next month stomped their feet in despair.
However, stalls completely burnt down by the recent fire are in fact all unlicensed. These illegal vendors were not officially registered on Namdong-gu Office, as a proportion of the fist market which originally belongs to the government, were restricted as limited development district. Under the current construction law, they are deemed as makeshifts built in vinyl tents, which caused the damage to worsen as they cannot legally install sprinklers to fight fire in emergency situations. While there were eight hydrants installed on buildings nearby the market, they were already locked when the fire started. Moreover, around 80 fire plugs and emergency hydrants at the stalls were found to be useless.
The access-way where many stalls and vendors were located also aggravated the situation as well. While the entrance is 2.6 meters wide, both sides were filed with stalls, making the fire truck hard to make inroads instantly when it first arrived at the scene. Consequently, fire-fighters had to put out fire by running inside the market while carrying the hose.
Despite three similar incidents in just seven years, no fundamental solutions were provided as the fish market itself was built as unlicensed buildings. To this end, experts point out that a close safety inspection should be made to install sufficient fire-fighting equipment.
"As the fish market itself is built as illegal buildings, merchants could not purchase a fire insurance, and we will strengthen fire hazard prevention measures by improving the current illegal stall operations and modernize the market," explained an official of Namdong Office.
Kum-Chun Hwang kchwang@donga.com