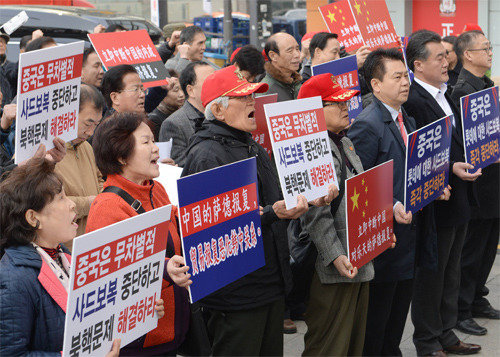 An analysis showed that damages from China's economic retaliation for THAAD against Korea could exceed 16 trillion won.
The Overseas Economic Research Institute under Korea Export-Import Bank of Korea recently released an estimation report on economic consequences of China's economic retaliation against Korea on Friday. According to the report, the amount of the damage is estimated at 7.3 trillion-16.2 trillion won. Once the retaliation started in earnest, Korea's export to China will be reduced by 3 to 7 percent and the number of Chinese visited Korea will drop by 30 to 60 percent in the next one to two years.
To be specific, the economic loss of Korea will be recorded at 16.2 trillion won including 10 trillion won in exports of goods and 5.5 trillion won in tourism revenue. Such estimation was made based on the worst scenario of a 7 percent decrease of export to China and 60 percent decline of Chinese visitors.
Researchers referenced damages of Japan from China's economic retaliation during the Senkaku Islands dispute or Diaoyu Islands dispute (in Chinese) in the past. Japan's rate of change in export to China was 7 percent lower on average than its total rate of change in export for 22 months since September 2011 in the midst of the dispute. Also, the number of Chinese tourists visited Japan declined an average of 28.1 percent for 11 months from October 2012 when Chinese government banned its citizens to travel to Japan.
Min-Woo Park minwoo@donga.com