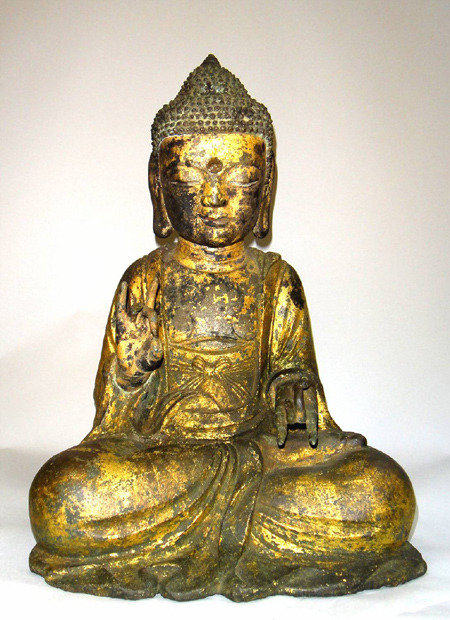 Eighty one pieces of cultural properties including Geumdong (bronze) Amita Yeoraejoisang statue (South Chungcheong Provincial Cultural Property No. 100) from Muryangsa Buddhist temple in Buyeo that were missing will be returned to their original locations.
The Cultural Heritage Administration said on Monday that it has recovered 81 cultural relics that were stolen, including Buddhist statues, Buddhist paintings and memorial stones, in collaboration with the Daejeon District Public Prosecutors Office." Geumdong Amita Yeoraejoisang at Muryangsa temple was originally discovered by chance when the Muryangsa Ocheungseoktap (five-story stone pagoda, Treasure No. 185), which was stolen in July 1989, was being repaired after disassembling. The stone pagoda has been returned after the Songam Art Museum in Incheon reported it to the authority in October last year. Geumdong Amita Yeoraejoisang, which is 33.5 centimeters high, was created in early years of the Joseon Dynasty.
Also returned are seven Siwangdo (painting of 10 kings of the heaven) paintings and one Sajado (painting of the death angel) from Bulyeongsa Temple in Uljin, North Gyeongsang Province. Siwangdo was painted by Buddhist monks Seobongeungsun and Manpajeongtak in 1880. Four memorial stones for senior government official Han Pil-won (1578-1660), and 15 memorial stones for senior official Lee Jeong-bo (1693-1766) have been recovered as well.
Sang-Un Kim sukim@donga.com