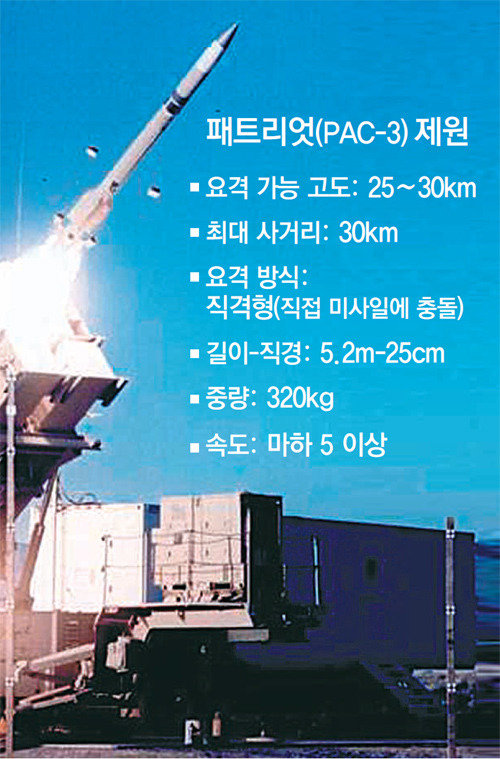 It has been reported that new batteries of the PAC-3 missiles, which are designed to intercept North Korean ballistic missiles targeting South Korea's presidential office, are going to be implemented near the office as quickly as in two years. This is a measure to respond to a series of threats from the North, which has disclosed a video of their drills to strike the presidential office Cheong Wa Dae and declared to set the office on fire.
According to government sources, the South Korean military authorities have decided to deploy the upgraded version of PAC-3 missiles in a mountain near the presidential office and are exchanging consultations with relevant organizations on deployment period. The military authorities are in the process of enhancing 15 units out of the 40 or so PAC-2 batteries into the PAC-3 batteries.
Once the Patriot missiles are deployed near the presidential office, it will be the second Patriot battery in Seoul, following the first one implemented in the south of the capital city. The total number of Patriot batteries doubles to four when the scope is expanded to the entire metropolitan areas, alleviating the concern over the defense of metropolitan area, an issue recently fueled by the decision to implement the THHAD system in a rear region (Seongju in North Gyeongsang Province).
"The defense system over the metropolitan areas will be reinforced thanks to the enhanced 'Point Defense Network' covering not only the presidential office, but also core security facilities including the government buildings in Seoul and the Ministry of National Defense," said a military official. In addition, the South Korean military is planning to replace two of the six PAC-2 batteries, which are deployed in the southern part of Seoul, with PAC-3 batteries by the year of 2018.
The PAC-3 missile is a "hit-to-kill" interceptor designed to destroy ballistic missiles through physical collision at the altitude of 25–30 kilometers (maximum range at 30 kilometers). They outperform the PAC-2 missiles (interception altitude at 25 kilometers/ maximum range at 20 kilometers), which are blasted near the target missiles (blast fragmentation).
Hyo-Ju Son hjson@donga.com