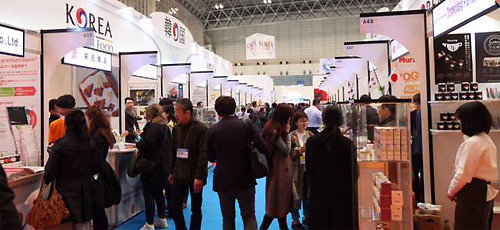 "Oishi (Delicious)!"
Japanese buyers repeatedly said in the Korean food booth of the International Food and Beverage Trade Show, one of the world's three largest food fair, held at Makuhari Messe in Chiba, Japan, on Tuesday. They were interested not only in well-known Korean food such as kimchi and samgyetang (broiled chicken soup) but also in fresh produce and health functional food.
According to the Korea Agro-fisheries & Food Trade Corporation (aT), a record number of 127 Korean companies are participating in the trade show that ends on Friday. The reason behind it is to revive the popularity of Korean food, which was dampened by the deteriorating relationship between Korea and Japan. All kinds of Korean food such as kimchi, ginseng, tea, alcohol, fisheries, processed food and pastes are being displayed.
In addition to the country booth, the corporation has installed eight additional promotional booths, including those for kimchi, fisheries, forest products, items with high export potential, and food service. An event was also held to make kimchi and another for Japanese college students to make kimbab (Korean sushi rolls). It is expected to have consultations worth around 15 million U.S. dollars would take place at the trade show, according to aT.
Around 3,000 companies from 80 countries are also joining the trade show. It would be a good opportunity to promote Korean food at the fair given that 78,000 food buyers are expected to come.
"We will help Korean food increase exports again ahead of the 2018 Pyeongchang Winter Olympics and the 2020 Tokyo Olympics while maintaining growth by developing new products," said Kim Ho-dong, head of aT's Tokyo branch.
Won-Jae Jang peacechaos@donga.com