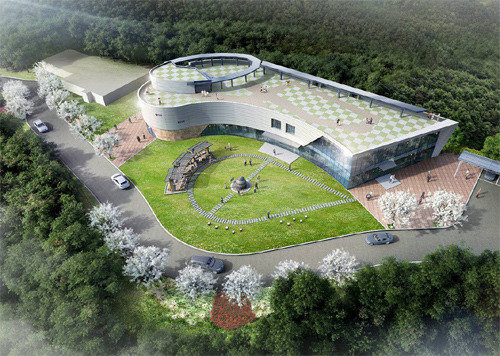 Dora Observatory, the tourists spot located at the farthest north of the demarcation line on the west front, is going to be relocated slightly further towards the north.
The city government of Paju in Gyeonggi Province announced on Monday that it will build a new observatory in June next year to replace the old Dora Observatory. The land for the new observatory is the peak of Mt. Dora (167 meters), 207 meters northeastern from the current location. Closer to the north by 11 meters and higher in altitude by 12 meters, the new spot is expected to provide a clearer view into the northern areas.
Dora Observatory is the only place in South Korea that commands a direct view of the Kaesong Industrial Park and Kijong-dong, a North Korean village built by Pyongyang for propaganda. As the facility is off-limits to civilians, one must get permits in advance to visit the observatory. Despite the limited access, as many as 600,000 people are visiting the facility every year, including those who left their families in the North, students on security awareness programs, and tourists from foreign countries who came to witness the division between the two Koreas. Having been built in 1986, however, the observatory has received a slew of complaints from visitors for its small space and old facilities.
"The facility is old, and there has been limit to accommodating more tourists as the building was barely equipped with rudimentary facilities such as telescopes and spectating seats," said Lee Jong-chun, the director at the Tourism Promotion Center of Paju City. "Once the new observatory opens next year, it will greatly help revitalize the local economy as a global landmark and a symbol of national security."
Kyung-Hyun Nam bibulus@donga.com