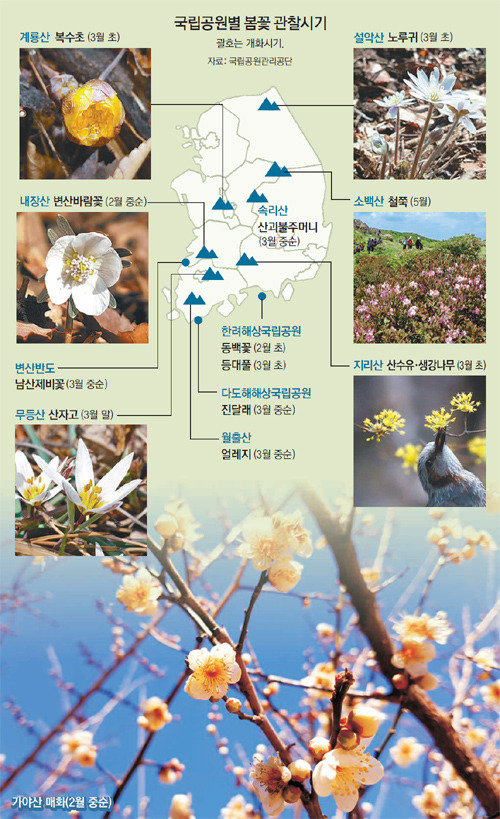 "Flower viewing" is one of the famous types of spring picnic. As March begins with warmer spring temperature, springtime picnickers are preparing for flowering viewing. This week's peak day temperature is expected to hover around 10 degrees Celsius. The Korea National Park Service under the Ministry of Environment has updated information about flower blooming schedules of national parks and picnic planning for springtime picnickers.
Early spring apricot flowers began blooming on Feb. 4 at Geoje Island, part of Hallyeohaesang National Marine Park located on Korea's southern coast. Apricot flower is the earliest blooming spring flower in Korea. Jisim Island, Nae Island and Hakdong are expected to show a spectacular view of camellia flowers in March, after blooming in early February, while sun spurges will soon bloom near the beach.
Eranthis byunsanensis B.Y. Sun, local species of flowers belong to the Eranthis family, will start to bloom at Mt. Mudeung and Naejangsan National Park. They started to bloom in the middle of February. They are a type of perennial flowers and grow well in a windy region. They are mostly spotted in humid and half-shady areas.
Jirisan National Park is a must-go place for spring picnickers who want to see sansuyu, Korean dogwood (Cornus officinalis). Sansuyu and spice bush are expected to start to bloom in early March at Sandong, Gurye County in South Jeolla Province. Sandong is also known as "Sansuyu village." These yellow flowers will hit peak bloom in the middle of April. Spice bush is famous for its spicy aroma.
Spring flowers started to color seaside national parks. Adonis, hepatica, local tulip and Gerbera anandria started blooming at Byeonsanbando National Park and Taeanhaean National Park in the end of February. Adonis is expected to start blooming at Gyeryongsan National Park in early March.
Hepatica and some other flowers started to bloom at Mt. Seorak. Songnisan National Park, Gyeryongsan National Park and Woraksan National Park are expected to give a beautiful view of cherry blossoms along the park's entrance road in April. The Yeonhwabong Peak at Sobaeksan National Park will be covered by royal azaleas blossom in May.
Mee-Jee Lee image@donga.com