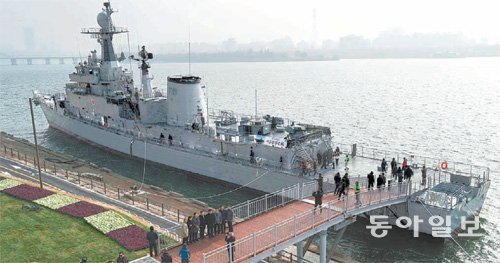 A 1,900-ton retired warship is floating at the newly opened Warship Seoul Park within the Mangwon Han River Park in Seoul's Mapo district.
The Seoul city government opened Wednesday the exhibition and active theme park, covering an area of 6,942 square meters. The 150-ton warship Chamsuri and the 178-ton submarine Dolphin also casted their anchor along with the Warship Seoul, which used to be a convoy. After negotiations with the Navy headquarters since 2015, the city has created the park by borrowing three warships without any charges.
The Warship Seoul is 102 meters in length and 11.6 meters in width, and its total height including the submerged part is 20 meters. From 1984 to 2015, the 1st generation warship defended the western sea part of the capital area, while it was designated as the top warship at the Rim of Pacific Exercise (RIMPAC) in 1990 for the first time in the history of the Korean Navy. Owing to its name, the Warship Seoul established a sisterhood relationship with Seoul City in 1984 when it was commissioned.
The three warships in the park have been preserved their original status as much as possible so that citizens can go inside, look around and experience the lives of the Navy. The Warship Seoul is floating on the Han River while Chamsuri and Dolphin are on the shore. The 3-story information center, which connects all three warships, exhibits the process of creating the Warship Seoul Park and the history of the Han River. The Seoul city government explained that it chose the Han River as the site for the park because it was near the Port of Yanghwa, which used to be the center of waterway traffic during the Joseon Dynasty.
Nevertheless, citizens have conflicting reactions toward the Warship Seoul Park. While a person whose surname is Hwang (age 34), who lives in Mangwon-dong, said, "The massive retired warship does not seem to go along with the peaceful atmosphere of the Han River," while a person whose surname is Ahn (age 39) said, "It is good to have a facility that children may like has been created in the middle of Seoul, which enables us to visit there easily."
The Warship Seoul Park is closed on Mondays, January 1, the Lunar New Year's Day and the Korean Thanksgiving Day. The entrance fee is 3,000 won for adults, 2,000 won for teenagers and soldiers, and 1,000 won for children. There are no entrance fees during the test period of the park, which is from Wednesday to December 3.
Jeong-Soo Hong hong@donga.com