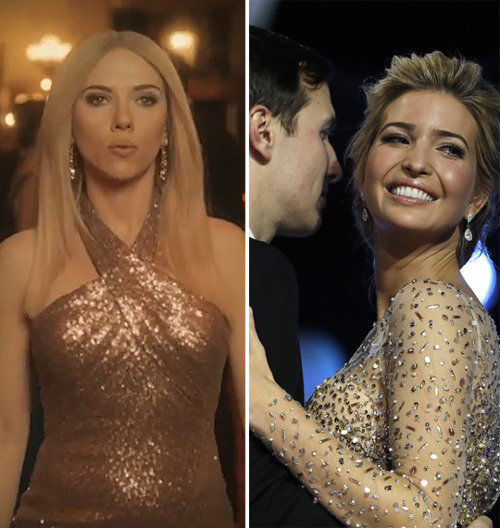 Ivanka Trump, the first daughter of the U.S. President Donald Trump, has become a topic of an American political satire show.
Saturday Night Live (SNL), a comedy show aired on NBC that is already famous for Trump satire, parodied Ivanka on last Saturday. This time, Hollywood top star Scarlett Johansson spoofed Ivanka. Johansson wore a tight silver dress and appeared at a party. Then she started to advertise her perfume, titled as Complicit. Ivanka is known to make an influence on her father greatly in his speeches and policies. The title Complicit means that she conducts state affairs with her father. Ivanka Trump had been running clothing and perfume lines before Trump took the office, and White House counselor Kellyanne Conway said "Go buy Ivanka's stuff" on a TV show. CNN said that SNL targeted on those.
There was a sarcastic narration that read, "She's a woman who knows what she wants. And knows what she's doing." After the voiceover, a caption was appeared, "(Ivanka is) A feminist, an advocate, a champion for women, but like how?" Johansson was putting on lipstick in a mirror and the mirror revealed the reflection of Alec Baldwin as Donald Trump putting on lipstick. The viewers could not help but laugh at the scene.
Scarlett Johansson, who took on Ivanka, was born in New York City and is a representative young liberal actress. Right after the inauguration of Donald Trump, Johansson attended the Women's March with anti-Trump protesters in Washington D.C. on Jan. 21.
Seung-Heon Lee ddr@donga.com