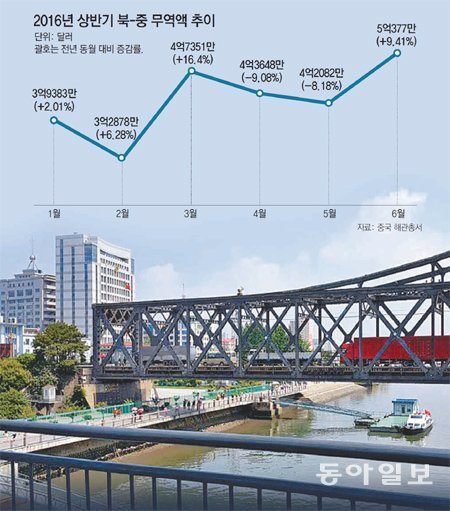 An anonymous source close to North Korean affairs said on Sunday, "Chinese officials confirmed that Beijing decided to aid 500,000 tons of food to North Korea within this year. We witnessed 20-ton trucks transporting corns to North Korea early this month on the border between North Korea and China." According to the source, Beijing had offered Pyongyang a minimum amount of provisions since Kim Jong Un took office, but things have changed drastically this year.
The Japanese daily Yomiuri Shimbun quoted from its North Korea-China sources the same day, reporting that the recent food aid was coupled with higher crude oil supply and trade volumes. It is believed that China started to ease sanctions against North Korea amid South Korea's THAAD deployment decision and the international communities' continuous pressure on China over the issue of the South China Sea.
The UN Security Council resolution adopted in March prohibited the supply of jet (and rocket) fuels to the communist nation. Nonetheless, China reportedly continued to supply minimum amount of crude oil for a while through the pipeline, just enough to prevent the dry-up. The resumption of China's large-scale aid to the North went against global measures to tighten the screw on Pyongyang, which recently launched nuclear missiles. Against this backdrop, some criticized China for being neglect its duties as a permanent member of the UN Security Council.
Beijing's food aid to North Korea was known to be decided on June 1, when the North's Workers' Party Vice Chairman Ri Su Yong and his delegation visited China to meet the Chinese President Xi Jinping. Delivering a letter written by Kim Jong Un, Ri requested one million tons of food, and President Xi allegedly answered to provide 500,000 tons. It remains uncertain whether China has provided rice or corn.
주성하기자 zsh75@donga.com · 도쿄=장원재특파원 peacechaos@donga.com