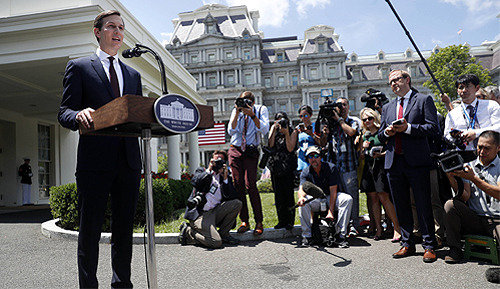 U.S. President Donald Trump's senior adviser Jared Kushner testified before the Senate on Monday local time. He was known to play a main role in Russian meddling in the 2016 presidential election. All eyes were on what the president's son-in-law and the key figure said, but Kushner denied all allegations saying that he did not collude.
In the statement issued before the statement, Kushner argued that his four meetings with Russians did not affect election results and were not special, nothing worth remembering.
With regard to the meeting with then Russian ambassador Sergey I. Kislyak at the Mayflower Hotel in Washington in April 2016, he stressed that he shook hands with all the ambassadors including Mr. Kislyak, exchanged brief pleasantries and that was all. As for the reports from the media that he made phone calls twice, Kushner said he did not recall. Kislyak is now suspected as a top Russian spy.
Kushner also denied allegations that he had received incriminating information about Hillary Clinton, the Democratic candidate, from Russian lawyer Natalia Veselnitskaya along with Donald Trump Jr., the president's oldest son, in June 2016. He said he arrived late to the meeting when the Russian lawyer was talking about U.S. sanctions affecting adoptions of Russian children. He thought that the meeting was a waste of time so asked his assistant to call him so that it could be an excuse to get out of meeting.
The closed-door hearing of the Senate Intelligence Committee was held in Haas. The building was crowded with about 200 reporters before the hearing began. Kushner arrived in the hearing venue twenty minutes before the 10 a.m. interview. He seemed relaxed and waived hands toward the press with a cheerful look.
"I did not collude with Russians, nor do I know of anyone in the campaign who did," he said in a statement at the White House following the hearing. "Trump won the election with smart campaign strategies. Suggesting otherwise ridicules those who voted for him."
In a nutshell, the hearing was great boast and small roast. CNN reported that the hearing was full of Kushner's explanations that cannot be proved. It also said that senators in the hearing had to listen to his explanations only as they had failed to dig into the evidence. The CNN reporter lashed the hearing by quoting a female reporter from Reuters at the scene, "All I can recall is Kushner's great look and speaking."
President Trump called the political community in Washington as the sewer and defended his son-in-law. White House press secretary Sarah Huckabee Sanders said President Donald Trump was very proud of his son-in-law for voluntarily appearing before the Senate Committee. "Attorney General and Congress have taken a very weak position on Hillary Clinton (on the alleged link between Clinton and Russia)," Trump tweeted. Donald Trump Jr. will appear before the Senate Judiciary Committee on Wednesday.
Jeong-Hun Park sunshade@donga.com