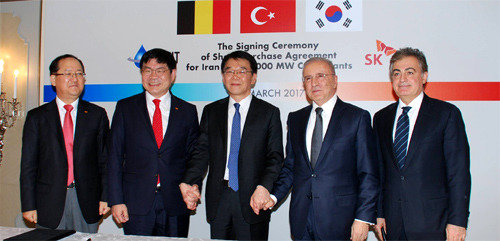 SK Engineering & Construction has won a 4 trillion won project to build gas-fired power plants in Iran, becoming the first Korean construction company to be engaged in Iran's private energy project. As Korean constructors continue to clinches projects in Iran, Turkey, and other countries recently, local builders begin to pin high hopes on overseas projects.
SK E&C said on Sunday that the company acquired a 30 percent stake in UNIT International S.A. in Istanbul, Turkey as of March 17 (local time). UNIT International S.A. is a special purpose company that Belgium-based energy company Unit Group established in Turkey and it acquired a right to develop power projects from the Iranian government in January.
This project, which is the Iran's largest energy project ever, is to build and operate five 5,000MW gas-fired power stations in total. A combined generation capacity of 5,000MW is enough power to supply 3.5 million homes for a year in Korea. The total cost of project including construction and financing is 3.4 billion euros (4.1140 trillion won) and the construction cost is 2.5 billion euros (3.025 trillion won).
In January 2018, SK E&C will build 1,200 MW and 880 MW gas-fired power plants in Saveh and Zahedan, respectively. The construction will take 30 months and the company plans to start commercial operation in the second half of 2020. Also, SK E&C is slated to build power plants in Sufian, Qasr-e Shirin, and Ahvaz in order. After the construction, the company will jointly operate with UNIT International with a 30 percent stake.
Jae-Young Kim redfoot@donga.com