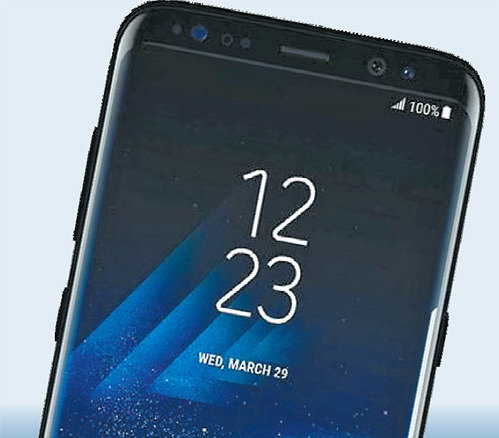 The global debut date of Galaxy S8 that Samsung expects to trigger the revival of its mobile business is two weeks away.
Samsung Electronics said on Tuesday that Galaxy S8 will be revealed on March 29th (local time) in both New York and London. Samsung plans to launch Galaxy S8 globally on April 21 in Korea and other major countries in order.
Extra attention is focused on Galaxy S8 as it is Samsung's first premium smartphone since the company permanently discontinued production and sales of Galaxy Note 7 last year. As the debut date of Galaxy S8 is approaching, its image leaks are posted on the social media each day. "I have seen many cases of product image leaks before their launch," an industry insider said. "However, it's unusual to see such level of image leaks with still one month away before the release."
Here is a brief information on the upcoming Galaxy S8 based on images leaked. First, Galaxy S8 could come in two screen sizes with 5.7-inch and 6.2-inch and both versions adopted dual edge displays.
As for previous models of Galaxy S6 and Galaxy S7, Samsung released its products with two versions that were flat and edge models. This time, Samsung has decided not to use the term "Edge" in its product names and the industry interpreted such decision as a message that the company is determined to make the edge shapes as a signature design for Galaxy series. Samsung first applied the edge display technology in its Galaxy Note 4 in 2015.
Galaxy S8 may adopt the 18:9 aspect ratio, adding height from 16:9 display of previous model. LG Electronics recently released G6 with the same 18:9 screen.
Also, it is known that Galaxy S8 will have no home button on the front unlike previous models, which was located at the bottom end of the front panel, due to bezel-less edge display. However, iris scanning technology that was first adopted to Galaxy Note7 will still be remained and facial recognition technology will be partially used with the adoption of "Bixby," Samsung's own AI assistant. An industry insider said that Galaxy S8 may use facial recognition technology to unlock the phone. However, it is unlikely to include sophisticated functions of facial and fingerprint recognition such as mobile transaction, meaning that the scope and features will be still somewhat limited.
With regard to mobile application processor (AP), which is the "brain" of smartphones, both Qualcomm's Snapdragon 835 and Samsung's Exynos 8895 (Exynos 9) will be used. Both chipsets will be made using a 10nm process that Samsung began to produce at the end of last year for the first time in the world. That is why the semiconductor industry is also paying attention to Galaxy S8.
Some media reported that Samsung may delay the launch of Galaxy S8 due to problems in AP yields. However, Samsung said it will release Galaxy S8 globally on April 21, as planned. Pre-order sales are available on April 7 in Korea and other major global markets 10 days after the debut at the earliest.
Galaxy S8 color is also the main interest. Galaxy S8 appears to be released in six colors including black pearl, white, blue coral, silver, gold and standard black. Considering that Galaxy Note7 with coral blue color was sensational last year, some observe that Samsung will provide and focus on multiple colors in its marketing strategies.
Samsung Electronics plans to erase bad memories of Galaxy Note7's battery issues with the new Galaxy S8. Galaxy S8 and S8 Plus will have 3000mAh and 3500mAh batteries for each. The power capacity has been slightly reduced comparing to Galaxy Note7's problematic 3600mAh battery.
Ji-Hyun Kim jhk85@donga.com