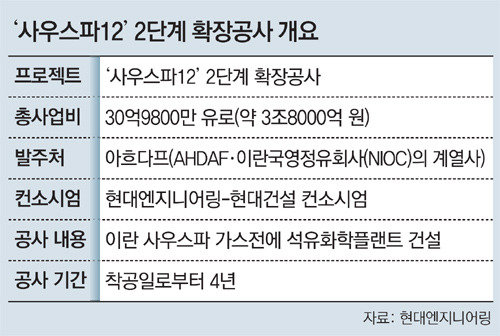 Korean construction companies continue to sign deals with the barren land of Iran. After Daelim Industrial won a large plant project worth over 2 trillion won (1.9 billion U.S. dollars) at the end of last year, Hyundai Engineering & Construction has sealed a 3.8 trillion won (3.3 billion dollars) mega deal to build a petrochemical complex with Iran this year. Expectations are growing that winning a series of construction projects will be a signal of the revival of overseas construction boom.
According to the industry on Monday, Hyundai Engineering signed a deal with AHDAF, a subsidiary of the National Iranian Oil Company (NIOC), and the agreement covers the construction of the second phase of Iran South Pars 12. The deal is worth at 3.098 billion euros and it is the largest in amount to date that domestic construction companies have won in Iran. The second phase project is to build a petrochemical plant at South Pars Gas Field in Tonbak, a region about 1,100 kilometers south of the Iranian capital city of Tehran.
It is considered that this deal is an achievement of "Team Korea," a combination of expertise of Korean construction firms, local network, and support from the government. This project will be proceeded as so-called EPCF model that contractor finances the cost of construction and later be returned the money with interest. The Export-Import Bank of Korea and the Korea Trade Insurance Corporation have provided an active support to complete the deal by agreeing on financing 85 percent of the total fund to the constructor in advance. Also, expertise of Hyundai Engineering, which is well recognized by the Middle East and local network, has played decisive roles in winning the deal. "This deal was possible thanks to the joint work by the government's support and Hyundai Engineering's hard-won reputation while completing its previous projects worth over 3 trillion won in the Middle East."
The construction industry expects that Korean construction companies will continue to win orders in Iran. Daelim Industrial is preparing for 2.28 trillion won contract to build the Bakhtiari Dam hydroelectric power plant in the second half of this year, while Hyundai Engineering recently signed a basic agreement to establish a combined cycle power plant in Zanjan of Iran.
Daewoo E&C, GE E&C, and Samsung C&T plan to make inroads into Iran with the construction of hospitals, roads, railways and petrochemical plants.
"Constant cooperation between public and private sectors supported by financing will boost the activities of domestic constructors in Iran, which is expected to vitalize sluggish overseas construction market," said Kwon Myung-kwang, senior manager of the Asia and Middle East bureau at the International Contractors Association of Korea.
Sung-Hwi Kang yolo@donga.com