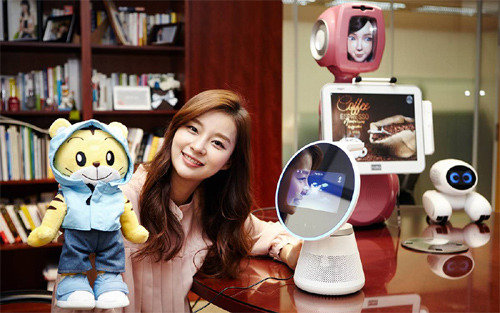 SK Telecom has unveiled four next-generation AI-driven robots that it will show off at the 2017 Mobile World Congress, the world's largest mobile exhibition.
"We will introduce our socialbot and toybot, which are next-generation AI robots, petbot, an AI-linked robot made by our partner, and a commercebot, at the 2017 Mobile World Congress in Barcelona, Spain on February 27," SK Telecom said on Wednesday.
SK Telecom's socialbot is a desktop type device whose head rotates to the direction of user making the order and then follows the user continuously. It can also express emotions through the screen, and can read users' hand gesture. For example, if a user holds up his or her hand which means "stop," the device stops.
The toybot for babies is covered with a fabric and looks like a doll. When a baby says, "I want to see my mom," the toybot connects the baby to the mother through a phone call, which enables video calls through the camera embedded in the doll's eye.
"Ijini" is a petbot made by a company named IPL and resembles a puppy. A user can make orders through linking with SK Telecom's AI home assistant "Who" and home monitoring is possible through the camera. "Furo Desk," a commercebot from the company called Future Robot is a robot that offers payment services at a retail store. It also can receive and guide guests. When AI is embedded, the device will be able to provide a customized service for individual customers and stores.
Sung-Gyu Kim sunggyu@donga.com