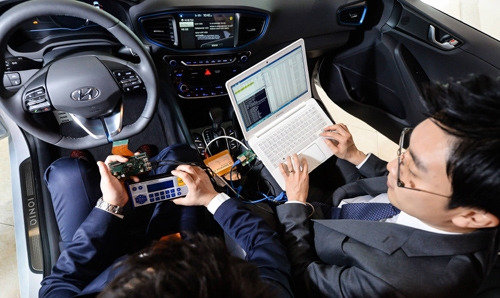 Hyundai Motor Group is establishing a research organization to find a new growth engine for the future. The new research body, "Strategy and Technology Research Lab of Hyundai Motor Group," will be located in the group's central research institute in Uiwang City, Gyeonggi Province, and the group is planning to recruit outside personnel to lead the new research center.
On Tuesday, Hyundai Motor Group announced the launch of a strategic technology research lab. The lab aims to flesh out a set of product and service projects to harness innovative technologies by analyzing future trends, including information technology, artificial intelligence, and shared economy, developing relevant technologies, and implementing a platform for a new type of business.
The research lab has been put together with the personnel from the new business section under the group's R&D headquarters, with Hyundai Motor Vice Chairman Chung Eui-sun leading the effort. The personnel will include not only engineers but technology planning strategists and project-building experts, and the size of the lab will also gradually expand.
The research lab will consist of two sections with one dedicated to planning new business projects and strategizing technology development, and the other focused on developing innovative technologies such as new materials, energy, bio health, and robotics. Hyundai Motor Group is planning to recruit a massive pool of professionals from various fields of expertise to meet diversified consumer needs against the expanding trend of fusion and convergence technologies. The head of the lab, which will be above the level of executive director, will also likely to be an outside figure rather than an existing manager within the group.
According to Hyundai Motor Group, it is planning to make a proactive use of "open innovation" in the technology development and project implementation. Open innovation refers to a form of business engaging other expert business entities, universities, or research centers as well as inside organizations.
Hyundai Motor put together the research resources for developing self-driving vehicles on Feb. 13 to launch "Intelligence Safety Technology Center" and recruited Dr. Lee Jin-woo who led autonomous driving technology development at General Motors. Hyundai is pursuing the goal of completing the development of an autonomous driving system by 2030.
The group expects that the new research lab will help transform itself into a "Market Shaper," leading destructive innovation in global auto market. "We are witnessing a seismic change where convergence of ICT, such as Things of the Internet, is permeating the entire industry, and we've decided that a proactive investment in technologies and project implementation is the key to our sustained growth in the future," said an official of Hyundai Motor Group. "The group will strive to become a trailblazer through bold investments in new technologies."
Min-Ji Jung jmj@donga.com