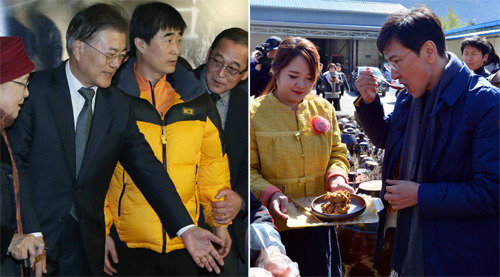 Main opposition Minjoo Party's former chairman Moon Jae-in and South Chungcheong Governor Ahn Hee-jeong saw their approval ratings edge down in tandem. The results of a Gallup Korea poll of presidential candidates' approval ratings released on Friday showed Moon and Ahn posted the approval ratings of 32 percent and 21 percent, which are down 1 percentage point respectively from the previous week. Acting President Hwang Kyo-ahn and former People's Party chairman Ahn Cheol-soo also saw their approval ratings fall by 1 percentage point each to tie with Seongnam Mayor Lee Jae-myung at 8 percent. Mayor Lee was the only candidate to see the approval rating increase by 3 percentage point in the latest poll.
The drop of Governor Ahn's approval rating attributed to his falling approval rating among the voters in his de facto home turf of the Chungcheong provinces. While Moon's approval rating increased in the region by 9 percentage points from the previous week, Governor Ahn's rating (26 percent) fell 8 percentage points in the region. During the same period, Governor Ahn also saw his approval rating of 18 percent drop by 3 percentage points in the Jeolla provinces, while Moon saw his rating (43 percent) soar by 11 percentage points in this region.
The change is believed to reflect suspension of traditional supporters of the opposition camp, as Ahn was under controversy for recently stating "President Park Geun-hye's good will." In fact, Governor Ahn's approval rating by supporters of the Minjoo Party fell from 24 percent to 20 percent.
Meanwhile, Governor Ahn beat Moon to rank No. 1 at 23 percent in the Daegu and North Gyeongsang region. The figure represents a 4-percentage point gain from the previous week. It effectively suggests that his remarks of "good will' have positively affected voters' sentiment in the Daegu and North Gyeongsang region. Governor Ahn posted an approval rating of 43 percent among the supporters of the conservative Bareun Party, beating over Rep. Ryu Seung-min whose approval rating of 15 percent of the party.
A survey on candidates' favorability showed that Governor Ahn had 54 percent, exceeding Moon wo earned 47 percent, which indicates that the governor could potentially elevate his approval rating depending on his future course of action. However, he is effectively facing the dilemma of the need to satisfy both moderate and conservative voters and the progressive Minjoo Party's supporters.
Sung-Jin Park psjin@donga.com