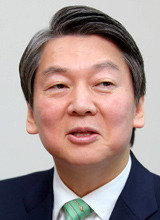 Ahn Cheol-soo, former co-chairman of the minor opposition People's Party, proposed on Sunday a two-track approach to change the industrial structure in the mid-to-long term and temporary increase wages of small-and mid-sized enterprises employees to 75 to 80 percent of that of large businesses with the government support.
In an exclusive interview with the Dong-A Ilbo on that day, Ahn stressed the need of providing temporary special measures on youth unemployment by saying that college graduates will record the largest number in the next three years starting from this year and youth unemployment will be the most significant issue all the time.
"Job creation should be primarily led by corporates and private sector, and the government should play a supporting role," Ahn said while criticizing Moon Jae-in, former leader of the Minjoo Party who promised to add 810,000 jobs in the public sector. "The government should focus on nurturing creative talents through education reform, investing on science and technology, and establishing a fair market."
"The so-called 'ministry selfishness' has caused to allocate R&D budgets into many government agencies," he said. "Such budget should be integrated and be managed by one ministry."
With regard to candlelight vigils, Ahn said, "I am confident that the Constitutional Court will rule that the impeachment motion is valid by 100 percent and the square belongs to people." There were talks about him that he was distancing himself from the candlelight rally by not attending to the protest.
Jin-Kyun Kil leon@donga.com · Hyung-Jun Hwang constant25@donga.com