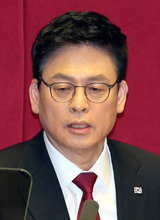 Chung Woo-taek, floor leader of the ruling Saenuri Party, made direct verbal attack against Moon Jae-in, a presidential candidate and former chairman of the main opposition Minjoo Party. "The very surprising idea of dividing and pressuring the public by labeling people who made sacrificing efforts for the nation the target for liquidation is an example of outdated politics," he said on Friday.
"It is an inconsistent act (for Moon) to pledge to take corrective action if and when he seizes power this time by rebranding it as reform or revolution for matters that they did not carry out when they were in power," Chung said. "It is also hypercritic to cover up even corruption and incompetence surrounding former administrations, which were massive, as if the public have completely forgotten them."
"I am very confident that a man who gives (the public) a sense of anxiety over national security issue is not eligible to become the president of the Republic of Korea," he said referring to Moon. "A man who falls into a sense of vanity and thus has the temptation to take hegemonic power will only side with and give favor to his own people and those on his side by dividing the public even after becoming the president."
Chung admitted to and reflected upon the ruling party's responsibility for recent political upheavals. Nonetheless, he said, "I will sacrifice myself in entirety to ensure that the broader conservative force will unite as one in the upcoming presidential election, to establish a conservative administration without fail.
"The exhibition of President Park Geun-hye's nude photo at the National Assembly is a case that tarnished the stature and dignity of this nation and constitutes a shameful act." Chung also said referring to Minjoo Party lawmaker Pyo Chang-won. These remarks were not found in his prepared speech, which had been circulated to attendees in advance, and earned angry reactions from opposition lawmakers.
Kyung-Suk Kang coolup@donga.com