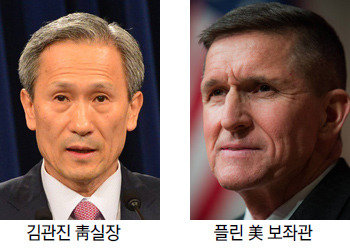 As Donald Trump takes office as the U.S. president, Washington and Seoul are accelerating the tightening of policy coordination. It is considered as a measure to calm concerns over the U.S.-South Korea relations and to send a clear message to North Korea since the inauguration of Trump.
South Korea's National Security Office chief Kim Kwan-jin and U.S. National Security Advisor Mike Flynn spoke on the phone on Sunday. Kim suggested to continue close ties between the two countries based on a mutual understanding of the importance of developing the alliance as well as the urgency of North Korea's nuclear issue. Flynn responded by saying that the bilateral relationship will develop in a strong, positive direction and proposed to continue close coordination on key issues. The phone conversation on that day was arranged at Flynn's request. Kim met Flynn on Jan. 9 in the US and reaffirmed principles of discard of North Korea's nuclear program and Terminal High Altitude Area Defense (THAAD) deployment in South Korea.
President Trump has vowed in the inaugural on Friday (local time) by saying, "We will reinforce old alliances and form new one." The foreign ministry of South Korea said that Seoul welcomed Trump's announcement to express his will to strengthen the alliance based on a firm recognition on the significance of alliance. The ministry also stressed that the U.S. and South Korea will closely coordinate together for reciprocal development of both countries as President Trump states the importance of allies and his will to reinforce alliance.
The South Korean government decided to send civil and government delegates to Washington on Sunday to form positive public opinions with all parties concerned. Korean Ambassador for Public Diplomacy Cho Hyun-dong will visit the U.S. by Wednesday and discuss on North Korean nuclear program, situations on the Northeast Asia and the Korean Peninsula with leading figures and think tanks including the Heritage Foundation, the Center for Strategic and International Studies, the American Enterprise Institute, the Brookings Institution, and the Congressional Research Service.
Soong-Ho Cho shcho@donga.com · Kyung-Im Woo woohaha@donga.com