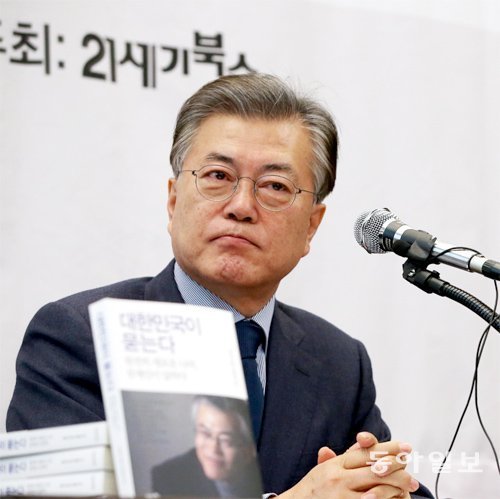 About the deployment of the U.S THAAD missile defense system, Moon Jae-in, a leading presidential hopeful and former leader of the main opposition Minjoo Party of Korea, said on Tuesday, "I am not in a position to either cancel or push for it (the deployment of THAAD). As the issue has both advantages and disadvantages, it needs to be discussed from a broader perspective." He showed the ambiguity of the strategy once again over the controversy that he changed words about the THAAD deployment.
Moon said in a press conference celebrating the publication of his book "Korea Asks" in the Korea Press Center in downtown Seoul on the day, "I think THAAD can be deployed as one of strong measures against North Korea's nuclear issue," Moon said. "It needs to be discussed publicly." Still, he did not make clear about his stance on the deployment of the missile defense system.
"As Korea agreed with the U.S. over the deployment of THAAD, it is complicated to discuss it again," he said in the book. "However, we need to thoroughly review what we get and lose with the THAAD deployment, specifically in that we have to lead issues on the Korean Peninsula."
"Though the cabinet system or the semi-presidential system might be outstanding theoretically, nothing has been proved yet whether they are fit for us or better than the presidential system," he talked on the constitutional reform. "If both the election system and chaebols are reformed, I don't think I need to insist on the two-term presidential system (which he pledged in the 2012 presidential election)."
The Minjoo Party raised concerns over his unclear stance on THAAD and the constitutional reform. "Though he stressed the process of making the issues public, he might be criticized for not having a clear position on controversial issues," a party official said.
To the question on how he would address conflicts with Kim Jong-in, a former leader of his party, he said in his book that he wanted to go with him but I had no special idea to address the conflicts. "If Kim is true to the Minjoo Party's platform and policies, it will be enough," Moon said. It implies that Moon would not make extra efforts to mend the estranged relationship with Kim since the April 13 general elections. "Instead of mending the relationship unnaturally, Moon would naturally coordinate policies with Kim around the presidential election," a person close to Moon said.
Sang-Jun Han alwaysj@donga.com