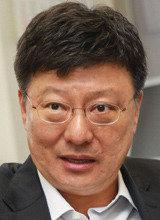 Park Ji-man, former President Park Geun-hye's brother and chairman of EG (59, photo), said he wants to help her. "I want to financially assist (his sister), if she wants. Let me know whenever she needs me," he was known to deliver his message through persons who closely served the former president. However, there was no answer from her on that day. Also, it was not confirmed whether or not she got the message.
"As far as I know, my sister would not accept that it's (her) fault," Chairman Park was known to say to his acquaintance. "Her own pride would forbid her to see me. I guess there's nothing (I) can do to help her."
Former President Park still stays at her home for six days since she left the president office Cheong Wa Dae on Sunday. She did not come out of her yard nor shone through the window. It is said that she mostly stays on the second floor and her guards use the first floor. All windows of the two rooms and living room on the second floor were firmly closed. Thick and bright yellow curtains are drawn all the time. Blinds are pulled down in the living room windows as well. Desolate veranda on the second floor reveals thick dust. It is said that the heating system at her home operates well after repair but people still feel chilly inside the house.
Ji-Young Jeong jjy2011@donga.com · Dan-Bee Kim kubee08@donga.com