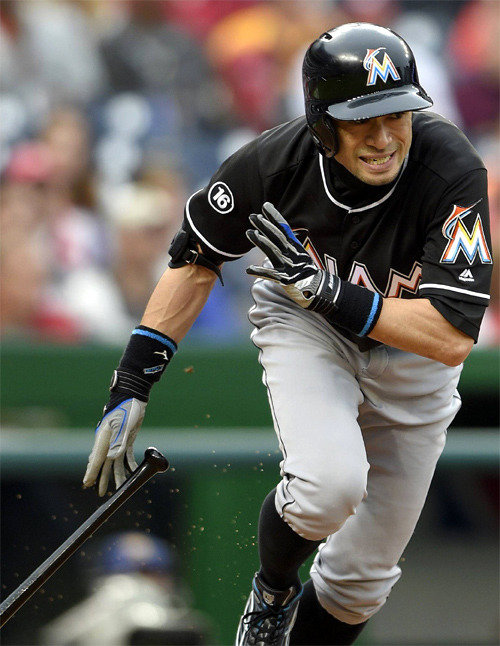 "I will make them realize that they can never beat Japan for the next 30 years."
This was what Ichiro Suzuki (44·Miami Marlins·pictured) said at an interview before the 2006 World Baseball Classic. Motivated by this bold comment, ironically, Korea did beat Japan several times afterwards. However, the remarks show how confident he was. He could say so because he was in his prime time both physically and mentally.
More than 10 years have passed since then, but Ichiro is still relevant. Recently, the Japanese hitter was listed as second oldest man among the currently active players in the Major League Baseball. Born on October 22, 1973, Ichiro was second only to the Braves pitcher Bartolo Colon (born on May 24, 1973). Aged 43 this year, Choi Yeong-pil of Kia Tigers and Hitoki Iwase of Chunichi Dragons are currently the oldest player on active squad respectively in Korea and Japan. This makes Ichiro the oldest baseball fielder who is still active in the entire world.
The form got a bit rusty. Starting as a member of the Seattle Mariners in 2001, Ichiro pulled off more than 200 hits every year for 10 consecutive years since his MLB debut, but his performance has been on the decline since 2011. Resourceful enough to double as defender or runner, Ichiro is still proving himself valuable as the "Fourth Outfielder." Last year, he appeared in 143 games, boasting the batting average at 0.291, with one homer, 22 RBIs, and 10 stolen bases.
His carefulness to stay away from injury borders on obsession. He never sits on the comfy couch typically prepared in the locker room because he thinks sitting there is bad for his back. Instead, he sits on his own hard chair. He never uses stairs when in shoes with spikes on because they can be slippery. Repeating the same routines throughout the day for the past 25 years (9 years in Japan, 16 years in the U.S.), he never sustained any critical injury. "As a person, I am not sure. But as a baseball player, I cannot but admire Ichiro," says Choo Shin-soo (35·Texas Rangers), a Korean MLB player who once played for the Mariners with Ichiro.
Having surpassed the milestone of 3,000 hits (his current record at 3,030), Ichiro has already secured a berth in the Hall of Fame. Combined with his stint in the Japanese league, Ichiro has managed a whopping 4,308 hits so far. No one knows when he will retire. The Miami Marlins is planning to extend his contract by 2018. Perhaps, we could see him breaking the record of Julio Franco (formerly New York Mets), who retired at the age of 49, and rewriting history as the oldest baseball fielder.
Heon-Jae Lee uni@donga.com