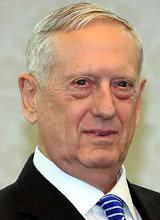 "The Donald Trump administration has issued an ultimatum to NATO members."
The Washington Post made this comment after U.S. Secretary of Defense James Mattis remarked, "If your nations do not want to see America moderate its commitment to this alliance, each of your capitals needs to show support for our common defence," in a meeting of defense ministers of the North Atlantic Treaty Organization (NATO) alliance that took place in Brussels, Belgium on Wednesday.
The deadline Mr. Mattis offered is the end of this year, some 10 months from now. A hike in defense contributions has thus become an "immediate headache" for NATO member states. Those countries have received "bills for defense costs" from U.S. President Donald Trump at a time when Russia is publicly making westward advances including its annexation of the Crimean Peninsula in 2014. "President Trump has underlined the importance of a fairer burden sharing… And I agree with him," NATO Secretary General Jens Stoltenberg told a meeting on the day. But representatives for most NATO member countries were surprised at Mr. Mattis' blunt demand to raise defense contributions, the Associated Press reported.
It is difficult to clearly determine at this point in time whether President Trump will actually change Washington's pledge to defend NATO by citing defense expenses. Since his goal is to force NATO member states to increase their defense contributions, many analysts say that Mr. Mattis' remarks on the day should be construed as part of the U.S. president's iconic bargaining tactic.
Trump may as well feel that Washington's current defense spending for NATO is a "loss-making deal." The U.S. is taking up 650 billion U.S. dollars, or about 60 percent of the alliance's total budget of 900.5 billion dollars as of 2015. The U.K., France, and Germany are only contributing about 40 billion dollars to 60 billion dollars each. This is effectively the reason the new U.S. defense secretary said on the day, "No longer can the American taxpayer carry a disproportionate share of the defence of Western values. Americans cannot care more for your children's future security than you do."
Now that President Trump is officially upping pressure on NATO countries to increase defense contributions, changes are high South Korea and Japan can be his next targets. In his Senate confirmation hearing last month, Mattis said without mentioning South Korea that America is strong together with allies and partners, adding that he hopes that allies and partners recognize their responsibilities as well.
The U.S. administration is set to hold discussions about key issues in Seoul-Washington relations when an early presidential election takes place following the presidential impeachment process in South Korea. As such, chances are high that Washington will demand Seoul to increase the latter's contributions to expenses for the U.S. troops stationed in the South only after the inauguration of the next administration. Many experts say that Washington will inevitably make similar demand, although the timing will be different. U.S. Secretary of State Rex Tillerson said at his confirmation hearing at the Senate Foreign Relations Committee last month, "South Korea is already paying large amounts to support American troops stationed in the country." If Seoul only blindly trusts his diplomatic rhetoric, it could unexpectedly face the same situation as NATO, which is facing Washington's surprise demand to hike defense contributions by year's end.
Seung-Heon Lee ddr@donga.com