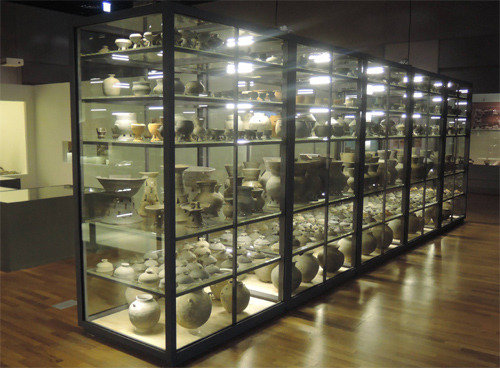 Glass showcases are filled with piles of earthenware including various pots and bowl stands on display. They are earthenware that has been excavated at tombs in Nobyeon-dong in Daegu, and a visitor gets surprised to see the massive volume of the exhibits that completely fill up all the showcases. It is like déjà vu of the special exhibition of more than 20,000 artifacts and items from undersea boats in Shinan, which were on display en masse at the National Museum of Korea last year.
The special exhibition "Newly Discovered Remains from Ancient Villages" at the National Museum of Daegu is drawing attention through presentations that comprehensively display relics and artifacts from a historic site called "Siji" in the Daegu region from the prehistoric era to the Joseon Dynasty. The historic site did not provide glaring relics or remains of large buildings, but 55 relics including villages, tombs and historic kiln sites have been discovered at once from an area extending 21.5 million sq. meters. They are considered core resources in the study of ways of living that allow people to look into the routine of daily life and death of ordinary ancient people rather than kings or noblemen.
The special exhibition showcases 10,000 of more than 40,000 articles that were discovered from the historic site from excavation work at "Siji," which has continued from 1992 to today. It is an unprecedented trial in which 25 percent of all items excavated are exhibited at once. The historic site was a place where a lodging facility called 'Won' was sitting in the Joseon Dynasty.
Special Exhibition Hall 2 shows forth earthenware from kiln sites of the Three Kingdoms Period, pottery-making tools, and various iron tools. Earthenware, ironware and artifacts excavated from ancient tombs from the Three Kingdoms Period also draw keen attention from visitors. Archeologists say that there were more than 40 kiln sites for earthenware production at the historic site from the 4th Century to 6th Century. Ironware was produced at the site beginning in the mid-5th Century. Special Exhibition Hall 1 will run the exhibition through August 6, and Special Exhibition Hall 2 through April 2.
Sang-Un Kim sukim@donga.com