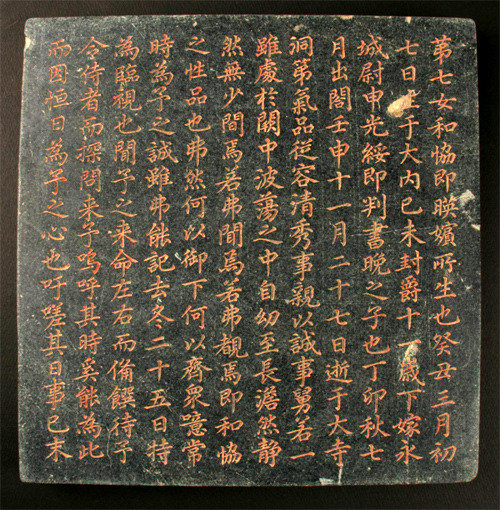 Memoirs of Lady Hyegyeong of Crown Princess Hong tell the story of strange family relations among King Yeongjo, Crown Prince Sado and Princess Hwahyeop. While the king put on clean outfit before he met his favorite Princesses Hwasun and Hwawan, he disliked Princess Hwahyeop to the extent where he threw away the water that he washed his ears to the direction of her place when he met Prince Sado. He didn't even let Princess Hwahyeop live in the same place with him and disliked his son-in-law Yeongseongwi.
Apart from the Prince Sado, what could be the reason King Yeongjo who cherished his daughters so much hated Princess Hwahyeop? "Since the king was disappointed to have had another baby girl when Hwahyeop was born, she wasn't loved by him even though she was beautiful and dutiful to her parents," Crown Princess Hong wrote in the Memoirs. Princess Hwahyeop was the fifth daughter from King Yeongjo and Lady Seonhui.
However, the record that is quite different from what the Memoirs say has been found in the tomb of Princess Hwahyeop. While excavating her tomb in Namyangju, Gyeonggi Province, the Korea Institute of Heritage has found a plate stone (which usually contains biographical information of the dead) whose contents were written by her father. A total of 394 letters were found to have been written on the back, front and side of the stone, revealing that they were written by King Yeongjo himself. It is said to be extremely rare that a king leaves the writing on the stone for his daughter. The record on the stone shows the ardent love of outlived father to his daughter. The king wrote the story at length when he visited the place of bedridden princess on Nov. 25, 1752, two days before her death.
"Having heard the news of my visit, she had her chamberlains prepare foods for me and sent them to me to inquire. What a considerate daughter she was!"
The bedridden princess did her best to welcome her father. Sadly, however, the reunion which could have been the last one between father and daughter was not made. Having lost consciousness all of sudden, Princess Hwahyeop was not able to respond when her father said, "I'm about to return back to my place" three times. "I came back to my place in tears."
"I heard from a doctor the following day that Hwahyeop regained her consciousness and asked her chamberlains why they didn't wake her up, expressing her regret of not having been able to say her regard to me. Hearing that, tears ran down my face without my knowledge. I was told that she was planning to come and see me but it was already too late."
Belated regret of the father might have been even more heartbreaking as he had been so harsh to his daughter when she had been still alive. "Writing down the story line by line, I can hold back my tears. I feel unbearably sad," the king added.
Sang-Un Kim sukim@donga.com