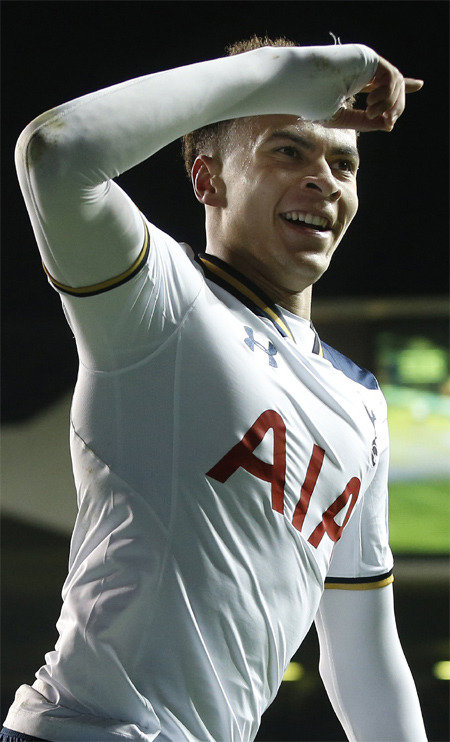 Harry Kane was the top scorer in 2015/16 English Premier League season represented Tottenham Hotspur F.C., where Son Heung-min is also playing for. However, another Hotspur rookie is currently challenging Kane's throne – attacking midfielder Dele Alli who is only in his second season in the EPL.
Alli, who was born in April 1996, is becoming a rising hope for Tottenham and England, the "home of football" England.
As a second-generation immigrant from Nigeria, Alli was born in Milton Canes located in the southeastern part of England. He started to play football at MK Dons (EFL League One). During the 2012/13 season, he made his debut match at MK Dons as a professional soccer player, and transferred to Tottenham Hotspur in 2015. While Alli was loaned back to MK Dons until May 2015, he immediately secured his spot on the starting line-up as soon as he returned to Tottenham. During his first 33 EPL appearances, he recorded 10 goals and nine assists. His excellent performances were rewarded with the "PFA Young Player of the Year" in 2016.
Alli's play enhanced significantly as he entered into his second season as a Spurs midfielder. As of Thursday, he already scored 10 goals in just 19 appearances, sharing the top scorer in Hotspur with Kane. What's more, it was Alli who stopped Chelsea F.C.'s ambitions to record 14 consecutive wins within a single EPL season. On last Thursday, Alli presented his team a 2-0 full victory where both goals were scored by himself.
With multiple goals scored in three matches in a row, Alli earned 20 goals for his team in just 56 appearances since he made his debut in the EPL. The record greatly exceeds that of EPL legendary midfielders such as David Beckham (90 matches), Frank Lampard (140 matches), and Steven Gerrard (169 matches). Mauricio Pochettino, the Tottenham manager, also showed his accolades that "Alli will become the best English player in 10 years."
Indeed, other leagues are sending "love calls" to the like-no-other prodigy. There were alleged reports that the French Ligue 1 team Paris Saint-Germain F.C. loaded their "money bullet" to buy Alli, and word has it that the Spanish La Liga teams Real Madrid F.C. and F.C. Barcelona are keeping a eye on the young midfielder. Furthermore, another article argued that Chinese Super League clubs will spare a maximum 1 million dollars (or 1.2 billion won) a week for Alli. While Alli renewed his contract to 2022 with Spurs at 60,000 pounds (or 87.1 million won) in September 2015, Chinese clubs are poised to reward such high amount.
Seung-Kun Lee why@donga.com