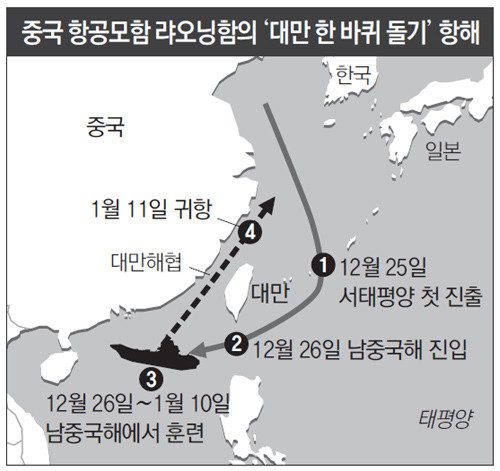 Chinese warships, led by its Liaoning aircraft carrier which held a show of force in the South China Sea, have entered the Taiwan Strait on Wednesday, putting the Taiwanese military on an alert. Analysts say that Taipei's move was a warning against the Chinese fleet's entry into the Taiwanese waters at a time when Taiwan President Tsai Ing-wen was visiting Latin American countries. The Liaoning sailed through the Taiwan Street in January 2014. However, it was before the carrier was put on official duty. Wednesday's incident was the first time when the Chinese aircraft carrier sailed through the strait.
Taiwan's defense ministry said Wednesday that the Chinese naval fleet entered Taiwan's air defense identification zone at around 7:00 a.m. on Wednesday morning and then sailed northwest in the Taiwan Strait. It appeared that the fleet was returning to its base in Qingdao, Shandong Province after a training exercise in the South China Sea.
The Taiwanese military entered into an alert posture at around 9:00 a.m., as the Liaoning entered the Taiwan Strait via the waters off the Pratas Islands, also known as the Dongsha Islands. Taiwan's air force scrambled its F-16 and IDF fighter jets, P-3C surveillance aircraft, as well as Navy frigates, to closely follow the situation. Taiwan's media reported on the situation, saying Taiwan's Defense Minister Feng Shih-kuan took command in person. Reportedly, it took 10 hours for the Liaoning to sail through the 180-kilometer-long Taiwan Strait.
The Liaoning entered Taiwan's ADIZ from the southwest at 7 a.m. Wednesday and sailed north, remaining west of the median line of the Taiwan Strait, according to MND, which said it is closely monitoring the movements of the Chinese warships.
As the Liaoning fleet returned to its base earlier than expected, it did not encounter the USS Carl Vinson Strike Group, which was sailing westward. The U.S. aircraft carrier is expected to reach the Western Pacific around February 20, when incoming U.S. President Donald Trump will be inaugurated.
The Liaoning's training exercise in the South China Sea is viewed as muscle flexing against the U.S. and Taiwan, which were trying to break away from Beijing's "One China" principle. The fleet sailed southward via the waters east of Taiwan and returned via the Taiwan Strait in a show of force. The Taiwanese president caused Beijing's ire by having a telephone conversation with the incoming U.S. president in early December.
The Chinese fleet conducted naval exercises for about 15 days in the South China Sea, simulating a naval battle by using an aircraft carrier fleet. Some observers say that in the event of the U.S. mobilizing its aircraft strike group in the South China Sea, China showed its will to counter the move with its own aircraft carrier.
Ja-Ryong Koo bonhong@donga.com