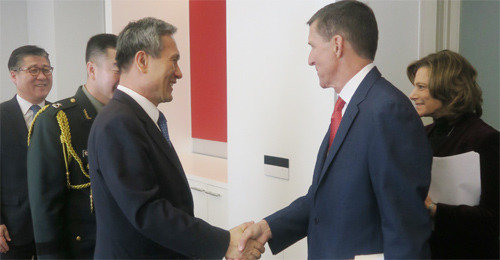 The United States and Japan on Tuesday sent a strong message to China against siding with North Korea while opposing the planned U.S. deployment of the Terminal High Altitude Area Defense (THAAD) system in South Korea.
Speaking at the U.S. Naval Academy on Wednesday, U.S. Secretary of State John Kerry said that the U.S. should make China focus on international sanctions on North Korea twice as much as now. "We will make it clear to the incoming administration that there are diplomatic ways of increasing the pressure (on North Korea), which we've been ratcheting up," he said.
Kerry also said the U.S. had informed North Korea that Washington was ready to negotiate economic assistance and help Pyongyang negotiate ways to normalize relations with the international community. But Kerry said if the North persists in developing the long-range missile it "drags the United States into an immediate threat situation to which we may then have to find other ways, more forceful ways of having an impact on the choices that he is making."
Japanese Defense Minister Tomomi Inada's visit to the THAAD unit at the U.S. Anderson Air Force Base is also seen as a show of the solidity of the U.S.-Japan alliance at a time of escalating North Korean ballistic missile threats and the Chinese military's brisker activities around Japan. When Russian President Vladimir Putin expressed concerns over the U.S.-led missile defense system during his visit to Japan in December, Inada considered postponing her visit to the THAAD unit. She told a news conference on Tuesday that she does not believe the North has secured re-entry technology that allows a missile to return to the Earth's atmosphere after it is fired. However, it is possible for the North to have developed light-weight nuclear warheads, she added.
In response, China made an absurd argument for its air force bombers' violation of South Korea's air defense identification zone (KADIZ). China's official daily Global Times claimed in an editorial, "But to China, the (East Sea) and the Pacific are in international waters. There is no need to notify Japan," the paper also said. "The scale of China's naval and air forces is enlarging and they will unavoidably expand their range of activities."
Seung-Heon Lee ddr@donga.com · Young-A Soh sya@donga.com