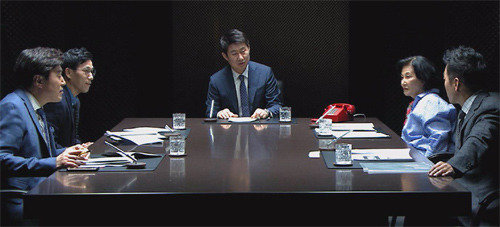 "Outsiders," a news and entertainment show on Channel A, has garnered a viewership of over 4 percent on just the third episode after its launch, emerging as a dark horse among TV programs airing on Tuesdays. Channel A is an affiliate of The Dong-A Ilbo.
"The viewership of episode 3 of 'Outsiders' recorded 4.287 percent (based on households subscribing to the cable channel nationwide)," Nielsen Korea, a viewership research firm, said on Wednesday. The per-minute peak viewership of the show soared to hit 5.19 percent on the day. Panelists' comments on the show about Chung Yoo-ra's interview in Denmark, which suggest "Chung seems to have taken rehearsals to portrait herself as a victim in collaboration with her attorney" became a hot topic of conversation among viewers.
With a viewership of 3.68 percent on the very first day, "Outsiders" had instantly risen to No. 1 in viewership among the shows airing in the same hour on general programming cable channels. The program is making strides to beat over even several terrestrial broadcast networks, surpassing 2.7 percent of "Homemaking Men" of KBS2, which was ambitiously launched in November last year.
On online communities and SNS, a growing number of netizens are also displaying enthusiastic responses to the program. "'Outsiders' is well made given that panelists address stories of stuffy Korean politics in a succinct, cool-minded way," some netizens commented, while many others concurred, "Notably, the 'Voice Phishing Hotline' segment on the show was especially fun." Voice Phishing Hotline Story 3, which aired on Tuesday, involved a call with independent producer Park Hoon-gyu, who interviewed Chung in Denmark to give a vivid account on the interview.
Yang-Hwan Jung ray@donga.com