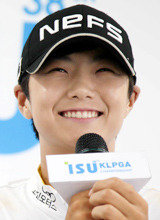 The 23-year-old Korean golfer Park Sung-hyun has made a new KLPGA record for the most money won in a single season.
At Isu Group KLPGA Championship at Sky 72 Golf Club in Incheon on Friday, Park finished her second round with five birdies and a bogie. She reached a score of 8-under par and came close to a trophy. After round 2, she broke the record of the previous record of 1.21 billion won (1.097 million dollars) set by Kim Hyo-joo in 2014.
"I cannot believe I made the new record. I am proud of what I have done," said Park. "I am still saving most of my pocket money because I am not a big fan of shopping."
She shared her tips behind her rise this season, saying, "I used to break down after losing a good chance on the filed, but now I can manage myself and that helps me drop more shots."
She has a unique nickname "not ordinary." On Friday, she donated 100 million won on Friday to the Community Chest of Korea, a charity organization. "As I was raised in a humble family, I am very award of the importance of donation," she said. "Chuseok, Korean Thanksgiving Day, is around the corner. I thought this would be a great time to share what I have with people in needs. I want to establish a foundation like Choi Kyung-joo, and raise young golfers."
Park also donated 100 million won at the end of last year, and joined the Honor Society whose membership requires donation of at least 100 million won.
김종석기자 kjs0123@donga.com